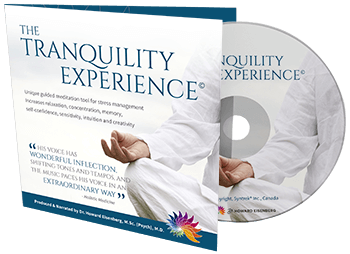 The Tranquility Experience©
(Audio Sample)
– Carol Goodrich, Editor, Ever Changing
Life is hectic. But you don't have to be overwhelmed by it.
Imagine how empowered you would be with a calmer mental state to begin your day. How much more could you accomplish when your mind is clear and focused? What's possible when you can dream up creative ideas on demand and tap into that inner intuitive guidance at will? There's a hidden wisdom and power available to you deep within, and The Tranquility Experience© can help you unleash it.
This gentle journey into a deep state of relaxation was carefully designed using
unique

music composed & performed in an altered state of consciousness
for synergistic brain entrainment
high-tech recording techniques that directly reach the powerful subconscious mind
the soothing tones of Dr. Eisenberg's acclaimed voice to guide you through
to that deeply relaxed state that you so crave
Empower yourself with instant relaxation using a single word
Part of the uniqueness of Dr. Eisenberg's guided meditation is the special code word that is installed in the subconscious mind while listening to the recording – so eventually you're empowered to regain that precious state of deep mental relaxation any time you want to. (You simply repeat the special code word in your mind to reactivate the relaxation state).  It's your competitive advantage – the ability to immediately trigger your conditioned relaxation response at any time during the day.
Here's how you'll benefit from listening to The Tranquility Experience©:
Relaxed body & calmer mind
Increased concentration
Improved memory
Greater self-confidence
Expanded creativity
Enhanced intuition
Isn't it time to relax and energize your mental performance?
 Available in both CD and mp3 digital download formats.
(BONUS: each includes two 25-minute versions for variety)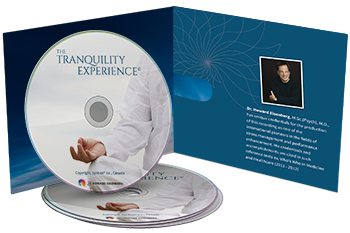 NOTE: This recording is not intended, nor appropriate, for individuals with clinical mental health issues, (unless otherwise advised by their Health Care Provider).
Extremely effective in facilitating relaxation and decreasing stress.
It has a wide variety of applications and it is very cleverly done.

Stanley Krippner, PhD. Past-President, Association for Humanistic Psychology
His voice has wonderful inflection, shifting tones and tempos,
and the music paces his voice in an extraordinary way.

Holistic Medicine
It is truly a blend of magical words and soul music.

Carol Goodrich, Editor, Ever Changing
Gentle, soothing, and recorded with utmost professionalism.

Jeanne Achterberg, PhD. Author, Imagery in Healing